Earth Guardians - Raising the value of nature through innovative technology
Earth Guardians has been on a mission to save life on Earth since 2015, with its startups QuestaGame, BioSMART.Life and BioCoin.Life.
Co-founders and husband and wife team Andrew and Mallika Robinson (who were joined by early co-founder David Haynes) have been designing collective super-intelligence platforms (a form of AI) since the early 2000s, including seven patents filed in the US.
Having settled in Australia from New Zealand in 2010, they were struck by the amazing wildlife all around them.
"We wondered if collective super-intelligence could offer a way to monitor and create a biodiversity map of species. At the same time, we noticed how powerful mobile gaming was becoming and wondered if it could offer a way to motivate people to use their smartphones to collect species data," Andrew says.
"QuestaGame was born. This was before Pokemon GO, but you can think of QuestaGame as 'Pokemon GO meets David Attenborough'.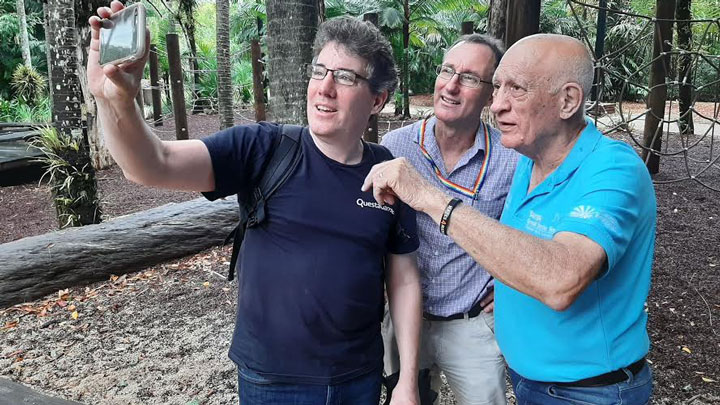 As a free app, the Earth Guardians team created the world's first game where players help save life on Earth.
"The application is now generating expert-verified species data every 15 seconds, producing a reliable map of biodiversity for research, biosecurity, environmental crisis recovery and conservation," Andrew says.
While originally set up in Canberra, it only made sense for the company to relocate to the biodiversity capital of the world, Cairns.
Earth Guardians is building the world's most reliable and informative map of biodiversity to tackle the lack of information about which species of life exist where.
Watching QuestaGame players grow from beginners, with very little ecological knowledge, to advanced experts who can identify hundreds, even thousands of species has been a huge highlight for the team.
"One 11-year-old boy became a co-author of a scientific paper based on a species he found playing QuestaGame. We love seeing all the new, undescribed species people discover, as well as the positive results from our Bushfire Recovery BioQuest and other programs," Andrew says.
"Quite a few new species were discovered during the August BioQuest, including a previously undescribed species of crayfish in Queensland, which was amazing to see.
"COVID-19 has also resulted in a 500% increase in demand for our product for schools, as students can study biodiversity from home, in their backyards, local parks etc, and teachers can access their work."
The urgency of this issue and the support of stakeholders have been the greatest challenges for Earth Guardians.
"The clock is ticking on biodiversity and we want to move as quickly as we can," Andrew says.
"We have also found it challenging to get the stakeholders to understand that this technology is leading the world and that the demand for this technology is growing very fast globally. We are in a high-growth industry with lots of job creation opportunities, which means Queensland, rich in biodiversity, can absolutely become the world leader in Nature Technology and AI. And yes, this technology offers a real way to save life on Earth."
This global tech business has grown without venture capital funding.
"We are not adverse to venture capital, but we haven't yet found a group that fits our mission, namely raising the value of nature in mainstream society," Andrew says.
"We've grown year on year from revenue and grants. Our revenue comes from our BioQuest programs, which are biodiversity mapping competitions paid for by sponsors. These BioQuests have doubled in size every year. Our most recent BioQuest - the Great Aussie BioQuest - ran during National Science Week and generated 35,000 sightings and IDs and mapped over 3,000 species across Australia. Overall our technology has generated over 2.5 million sightings and IDs, and mapped about 18,000 species across 45 countries.
"We've also received some grants, including a Hot DesQ grant from the Queensland Government, which allowed us to make the move from Canberra to Cairns."
Earth Guardians has big plans to continue its overall mission.
"Our collective super-intelligence technology is getting smarter, faster and more accurate all the time. This allows us to produce some really cool next generation games, as well as to implement new rewards systems like BioCoin. BioCoin will allow people to shop for real world items, like groceries, based on their contribution to biodiversity mapping and conservation," Andrew says.
"We're also really excited to be working with indigenous groups on a new application, IndigiQuest, which aims to help preserve indigenous knowledge across generations, while giving it the scientific and financial recognition it deserves.
"At the moment we're seeing great opportunities for our schools program and are getting some world-class partners on board to scale it up."