Ceres Tag - Direct-to-satellite livestock information platform
Ceres Tag is the world's first and only commercial direct-to-satellite livestock information platform. It offers proprietary smart ear tags to the supply chain network for biosecurity and provenance.
Its comprehensive animal monitoring technology spans livestock, wildlife and companion animals, and its scalable and low-cost rapid delivery is expected to significantly increase adoption rates of animal monitoring across these categories. 
The company started on a family farm back in 2016, when co-founders Melita and David Smith identified a lack of knowledge about animals and understanding the benefits they can bring to our society.
Now the Queensland startup has a high RegTech, AgTech, FinTech and InsureTech focus and has the ability to send information from the animal directly to satellite. With varying solutions and business models for each division, it provides a unique approach for each industry focus.
"Ceres Tag provides the lowest priced livestock information originating from the animal by utilising direct-to-satellite smart ear tags. This means no infrastructure, maintenance, battery changes and subscriptions are required and it will operate in nearly any environment," David says.
"We work with livestock for traceability provenance, animal welfare, biosecurity, food security and safety; with wildlife for reduction of poaching, conservation, eradication of feral species and biosecurity; and with companions through the humanisation of domestic pets and honing in on their role in the social infrastructure of society."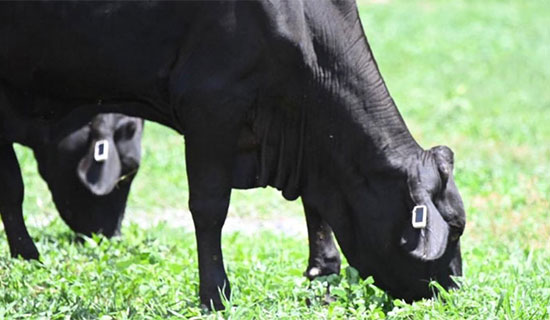 A huge highlight for the team is being oversubscribed for their next batch of smart ear tags and the development of their ecommerce website, which is set to launch early next year. 
"We are currently oversubscribed with our next batch of smart ear tags, which will be available for purchase from May 2021. These will be accessible on our ecommerce website, once it has launched," David says. 
"The tags are available in boxes of 24 and when purchased will be delivered directly to your door. Then all you need to do is plug and play, giving you information on traceability and the welfare of your animals anywhere, anytime.
"We are also working in partnership with the CSIRO's Kick-Start program on a new Ceres Companion Collar technology. This has been a really exciting experience as we are developing technology that will be like a smart watch for man's best friends and will bond the interdependence between animals and people for the health and mental wellness of our community."
Another recent development is the addition of a pasture intake algorithm to its direct to satellite smart ear tags.
"We've recently added a pasture intake algorithm, developed by CSIRO and NSW Department of Primary Industries, to monitor pasture feed intake by cattle," David says.
"This new dimension to our already extensive analytics and diagnostic range will lead to feed efficiency of the herd and from there into genetic selection and greenhouse gas reduction."
Ceres Tag has received funding from both the Australian and Queensland governments.
"The funding we have received from both the Australian and Queensland governments has been very generous, they really want to see businesses like Ceres Tag proceed and succeed," David says.
"We also have some fantastic private investors who continue to support the company and believe in the purpose, direction and the why of the business. Most people assume the economic benefits will be there, they are quite obvious and subsequently investors make their decision to invest around the significant social and environmental impacts that our technology will bring to society.
"We are now generating revenue so the business has turned the corner and has a bright future, with a very significant growth curve ahead of it. The company has multiple recurring revenue streams across the three divisions. Our online ecommerce platform will be at the core of the business and will make adoption of the technology incredibly easy and low cost for the customer."
In the future Ceres Tag is working on acknowledgement and scalability.
"We are currently struggling with acknowledgement and awareness of the work we do. It is a big focus for us to continue expanding on this," David says.
"We are also doing a capital raise as we have sales in nine countries and [are] growing rapidly. Our platform is one of a kind and only comparable to other groups such as Fitbit and the Apple Watch, only we do the same level of monitoring and analytics for animals."